Less screen, more dream.
The world is a stressful place.
Your bedroom doesn't have to be.
Loftie philosophy
What if we stopped using
our phones as our alarms?
Technology, blue light, and stress hurt our ability to feel relaxed, fall asleep, and wake up refreshed. We're out to break the cycle by removing the smartphone from bedtime and morning routines. Upgrade your rest, one good night's sleep at a time.
What is loftie?
A totally new kind of invention
we're calling the 'alarm clock'
OK, you're right. We didn't invent the alarm clock.
But with all these new features, we may as well have.
Nightlight
Nightlight
Remember these? Plus, a warm glow from the built-in nightlight signals it's time to start thinking about drifting off.
White noise
White noise
Scientifically calibrated noises and nature sounds to lull you to sleep and keep you there. They fade out before your alarm goes off so your brain doesn't get mixed messages.
Wellness content
Wellness content
Sound baths, Breathwork, and Stories. Unique content now available on your nightstand—no phone required.
Speaker
Speaker
Want your own music? Loftie doubles as a speaker too. Enjoy premium quality music and other audio content from your night stand.
Alarm clock
Alarm clock
Our two-phase alarm system was designed for the way humans actually wake up: The first sound gently lulls you awake while the second gets you out of bed.
Backup battery
Backup battery
Loftie has a backup battery to make sure that the time is always accurate and your alarm goes off, even in the event of a power loss.
Stress busting machine
Go to sleep relaxed
and stay that way.
Meditations, Sound baths, and Breathwork. Unique content from the best instructors out there, now available on your nightstand—no phone required. Plus: Storytime is back and it's going to knock your slippers off.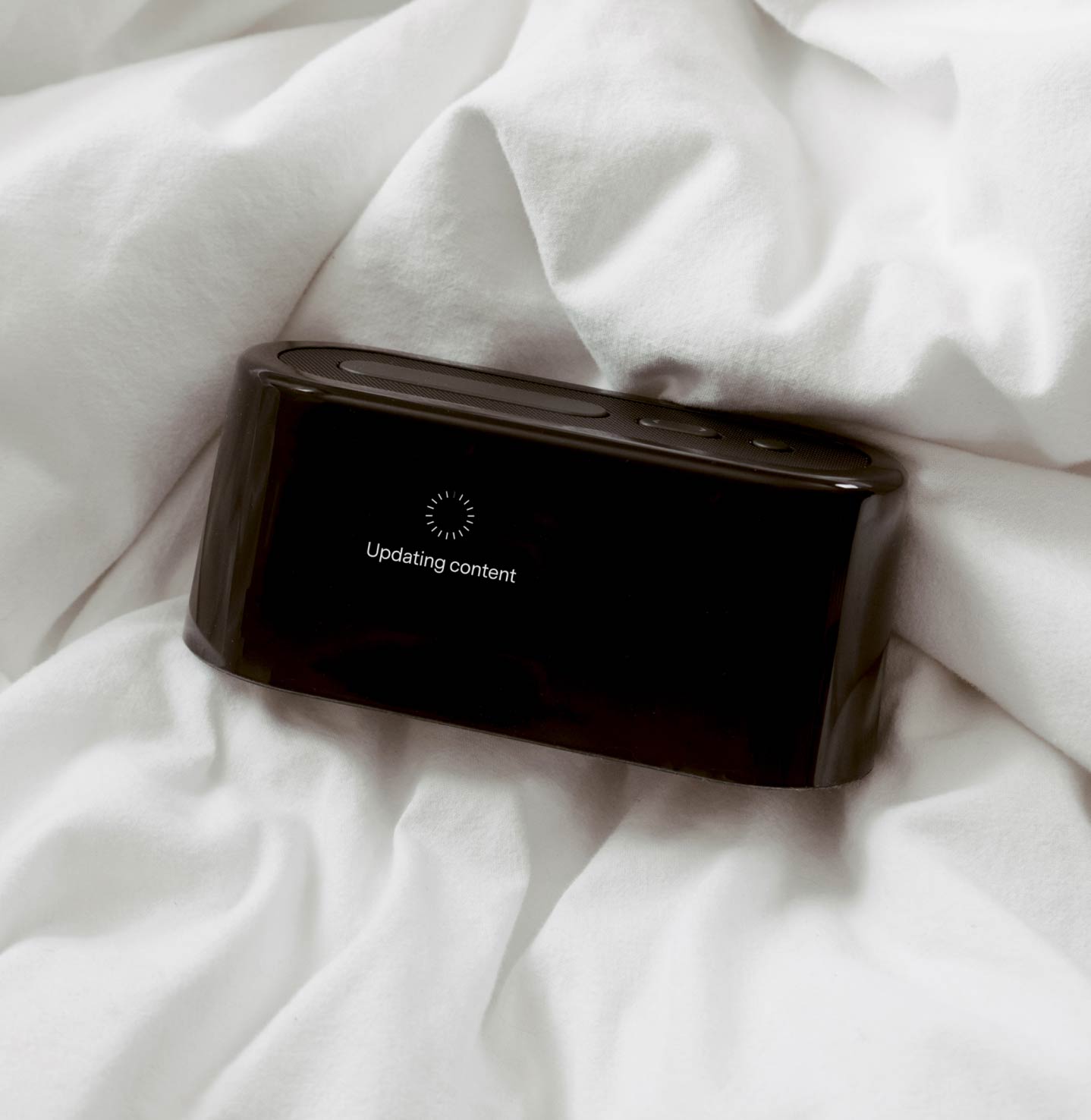 ALWAYS UP TO DATE
Buy once — forever new.
When you buy a Loftie, you aren't buying any old alarm clock. You're receiving a continually evolving experience, with new alarms, features, and sound content for years to come.
Loftie Clock
+ free U.S. shipping
We wrote the book on sleep
The Mysteries of Sleep
A lighthearted tour of the science, history, legends, and oddities of slumber.
We're Loftie —
A brand dedicated to creating better tech-life balance for people everywhere. Because technology is only as good as the way it makes us feel, we design things that make you feel optimally rested, relaxed, and refreshed. Happy. Our first product, the Loftie Clock, began with a question: How do we help people feel less dependent on smartphones at home? Thousands of hours of R&D later, we're excited to bring you the fruits of our labor. Now, with a little help from you, we're out to retake slumberland. One good night's sleep at a time. Loftie is headquartered at 205 Hudson St, New York, NY 10013.
Matt Hassett
Founder & CEO
Lauren Suiter
Marketing Director
George Hastings
Design Director
Lindsay Rodabaugh
Creative Director
Abbey Phaneuf
Marketing & Comms
Ryan Rhodes
Lead Software Engineer
Kristen Marchetti
Marketing & Comms
Dr. Fiona Gispen
Medical Advisor
Leo Wong
Firmware Developer